1. We're picky.
If we don't personally love a piece of fabric, we won't buy it. As a result, you'll find that AAF offers a collection of truly beautiful pieces that not only reflect excellent taste but also a deep respect and affection.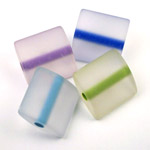 2. We're fabric and more.
At AAF, you'll find the finest and most unusual imported fabrics. But you'll also find an extensive collection of beautiful buttons, as well as notions, interfacing, shoulder pads, lining, and Elna sewing machines, sergers, and presses. We stand behind our sales with great support and we service sewing equipment whether you bought it from us or not.