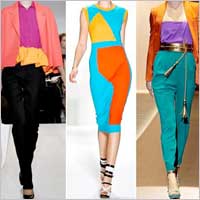 Designer Fabrics for Color Blocking
Mondrian did it first, but now cheerful color blocking is a big trend for spring fashion 2012. To do it, just combine two or more bold, solid color pieces in bright hues. Or add in some black or white to soften the effect. AAF's color block collection is a great group of cotton stretch-wovens that are perfect in weight and sheen for all sorts of fun projects: separates, shirtwaist dresses, ankle-grazing pants, or capris. Fashion forward and fun, and just in time for spring.
Click on any thumbnail to see larger sample and details.