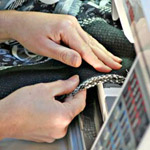 3. We're experts.
Before we were retailers, we were sewists. In fact, our people not only sew, many of them also teach sewing from basic to couture. Because we talk your language, we can help you determine exactly what and how much you need for the project you have in mind without trying to oversell you. In addition to answering your questions about fabrics, we can help you pick out the right lining, interfacing, buttons and shoulder pads.
4. We take it personally.
Most of our customers become our friends because we treat them like friends from the start. That means we always return emails and phone calls promptly and we take whatever time is necessary to make sure that everything is perfect before an order ships. Most orders ship within 24 hours. After the sale, we're always happy to help with a project if you reach a sticking point or have a question.