Fun Projects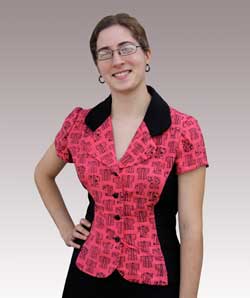 Sewist: Hope
Project:
Top
Fabric:
Rayon Kimono Print and Black Cotton Piqu&eacute
Lining:
none
Buttons:
From her own collection
Pattern:
Simplilcity #4879
Notes:
Hope is one of our summer sewers, always looking for an adventurous and fun project to tackle while taking a break from her college studies. Hope pieced this funky kimono print with a bold black cotton piqu&eacute to accentuate the lines and details of the top. Bright and talented, Hope is also an accomplished violinist and her mom is a long time student at AAF.