Fun Projects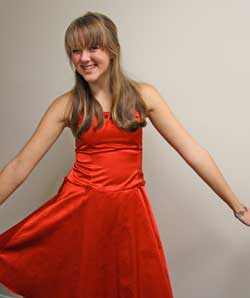 Sewist: Madison
Project:
Party Dress
Fabric:
Italian cotton and polyamide satin
Lining:
China Silk and nylon netting
Buttons:
none
Pattern:
Burda #8174
Notes:
Madison is our youngest student who made this beautiful dress for her 7th grade Valentine's dance at age 12. Since the fabric is cotton, she had an easy time sewing it. Notice the attention to detail in the piping and invisible zipper. Quite an accomplishment considering it was only her second project. Bring on the prom dresses!!!